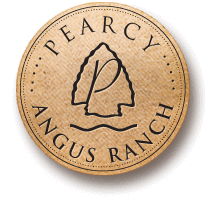 PAR Resources
WW-B. Dahl Bluestem Grass (Old World Bluestem variety) - Farming, Haying & Harvesting
WW-B. Dahl Bluestem grass (Bothriochloa bladhii) is named after Texas Tech University's Range Science professor, Dr. Bill Dahl. This warm-season, perennial bunch grass's seeds were collected from India in the 1960s, and then later tested by Dr. Dahl's department at Texas Tech. Pearcy Angus Ranch discovered the abundant yield with minimal rain fall, low fertilizer application and overall minimal maintenance of the WW-B. Dahl Bluestem grass in Hamilton County in the late 1990s.
WW-B. Dahl Bluestem grass is by far the best of the different varieties of bluestem, in terms of low maintenance, bug resistance (army worms & grasshoppers), hog resistance (dislike the grass aroma), abundant yield, and drought resistance. A single plant in its early stage will grow mostly flat to the ground. When mature, the single plant can cover a full square yard, and grow two-to-three feet tall. It has long green leaves, and it produces a unique oil that has a distinct "sweet" aroma. The odor, while 7 pleasant to humans, it is a repellent for various types of worms, flies, grasshoppers, and feral hogs. We discovered early on that–when planting WW-B. Dahl – "patience is a virtue" during initial plant development as it takes 2-years for good plant development! The WW-B. Dahl grass grows a deep root system at first, and above the ground, full maturity is not fully noticed until the second year's growth.
Our initial 100+ acre dryland hay field has provided anywhere from four-to-eight tons per acre yield in round hay bale production without irrigation and minimal fertilizer application (60-100lbs per acre) - many times being harvested two to three times in one year (June through October). During the severe drought several years ago, the hay field received only a ¼-inch of rainfall for that year, and we were able to get a full hay cutting with a yield of two-to-three tons per acre. The grass is very drought resistant once it has matured.
Our ranch land is firm black clay, in which WW-B. Dahl Bluestem seems to thrive. Our best success has come from no-tilling the grass seed into a very firm, prepared seed bed at 1/8-inch depth or less (the shallower, the better) at about two-to-three pounds per acre (900,000 seeds per pound). Seeds must have direct contact with soil, so the less trash on the ground, the better. We recommend for proper germination to begin planting WW-B. Dahl Bluestem seeds when there has been five consecutive days of night-time temperatures above 60 degrees. Also, weed control is critical in the first two years, because the grass seed is slow growing in its early development. We now have over 2,000 acres in WW-B. Dahl Bluestem grass. Pearcy Angus Ranch has invested in specialized grass seed harvesting equipment, and harvests WW-B. Dahl Bluestem seed annually for Turner Seed in Breckenridge, Texas. Today, we have no-till drilled the WW-B. Dahl Bluestem seed on almost all 5-sections of the ranch. In our opinion, WW-B. Dahl Bluestem grass is the best cattle grass for the money.
---
PAR ET/AI Program Overview
Pearcy Angus Ranch has developed a progressive embryo transfer program (E.T.) to mass produce high-quality genetics from our elite donor herd. We calve in both the Spring and Fall for just under 90 days in each season and flush every three weeks through our two breeding seasons, so that if a recipient comes back in heat she is lined up for the next flush. We typically have approximately four rounds of traditional E.T. per season with all the work being done by Todd Stroud and his Hoofstock Genetics crew from Ranger TX. Our proximity to Hoofstock also allows us to do some IVF work when it's warranted. The majority of our donors are flushed for a full year and then put back in calf. We will continue flushing between the Fall and Spring breeding seasons to build a frozen embryo bank for those days when we don't produce enough embryos to fill our recipients. Typically, the second round of the fall breeding season will be a thaw-only day so that our hard-working hands aren't required to give FSH shots or breed donors on or around Christmas and other holidays.
Pearcy Angus Ranch breeding systems and procedures are constantly being tweaked keep our reproduction program as efficient as possible. As anyone in the business knows, flushing every three weeks, although it creates a lot of work, is the best way to keep our recipient herd calving on a 365-day cycle.
Our artificial insemination program (A.I.) is just as intense and aggressive as our E.T. program. We start breeding just after Thanksgiving and will continue through January, then start again April 1 for spring calves and continue through mid-June. Our high-quality herd sires are then turned out to breed the few cows we have not successfully bred and will stay out through July. At the beginning of each breeding season, we will synchronize all cows that calved in the first 60 days of the season to move those mid-season cows to the beginning of the calving season. Cows that calve in the last thirty days of each season are synchronized in the middle of the season trying to move them to an earlier calving date as 8 well. The key to a successful A.I. program is extensive heat checking. A.I. cows are typically pastured somewhere close to our cattle chute working areas around the ranch for easy access which makes it easier to catch them in heat. Each group is watched at least twice a day through each season. This requires extra hours of work by our team, but the result benefits PAR and our customers, having an entire calf crop sired by U.S. breed leading, highly proven Angus sires.