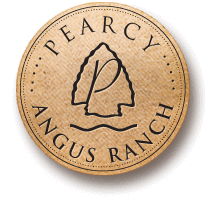 PAR Intern Program
PAR Intern Application (Spring, Summer & Fall)
Join Pearcy Angus Ranch's College Intern Program and embark on a transformative journey in the world of seed stock operations with registered Angus cattle. At Pearcy Angus Ranch, we believe in hands-on training that cultivates hard work, written systems & structure, teamwork, dedication, problem-solving, and independence.
According to the August American Angus Journal article (page 110 - Angus Journal August 2023 article on Pearcy Angus Ranch Collegiate Intern Program), our program has been recognized for providing an exceptional learning experience. Lindsay Low, one of our recent interns, attests to this, saying, "The best way to learn is by getting your hands dirty and actually doing the work. This experience has allowed me to grow individually and professionally. I now feel more confident and prepared for a career in the agriculture industry."
Another intern, Grayson Lee, shares his gratitude for the connections and knowledge gained during his time at Pearcy Angus Ranch: "The PAR internship has been so important because of the connections that I have made with people throughout the industry. My experiences here have built my confidence levels within the cattle industry."
Our internship program offers a safe and supportive environment where you can try new things and expand your skill set under the guidance of experienced professionals whom you can trust and respect. The real-life skills you develop with us will be invaluable for your future endeavors in the agricultural sector.
Don't miss this opportunity to transition from being a student to becoming a professional adult in the ranching industry. Join Pearcy Angus Ranch's College Intern Program and unlock your full potential. Apply today and discover how strong you can be in this dynamic field.
PAR INTERN PROGRAM DETAILS
TERMS AVAILABLE:


Spring Semester

(January through April/May – 5-10 weeks)

, Summer Semester

(June through August 5-10 weeks)

, OR Fall Semester

(August through November/December – 5-10 weeks)

INTERN WORK / ACTIVITIES / DUTIES:


As an intern, you will be expected to work the same duties as our various ranch managers with their oversight – cattle, farming, working with heavy equipment, paperwork, clean-up, etc. Long hours will be expected, just as our managers experience. Some work weeks might be 6 to 6.5 days. The intern experience should be like our working ranch managers – "Do what it requires to run a highly efficient beef seed stock operation."

PAR PROVIDES:

Housing (efficiency apartment on ranch)
Paid Internship
Experience with vet. specialists, ET & IVF specialists, AI technicians, vaccine/medication consultants, feed/nutrition consultants, equipment consultants, beef sale consultants, farming consultants, irrigation consultants & experienced ranch personnel
PAR will not provide

health insurance (must provide proof of insurance)
meals

Appropriate PAR supervisory oversight with overall work-related duties from Ranch Manager, Cattle Production Manager, Cattle Operations Manager, Farming Operations Manager & PAR President

APPLICATION INFORMATION:


Eligibility: Undergraduate Juniors and Seniors receiving an AG Studies degree; Graduate Degree in Agriculture; Background in animal agriculture; Interest in animal genetics, animal nutrition & health, reproductive management & marking of purebred cattle, etc.

PAR's SELECTION CRITERIA:

Background & experience in the livestock / farming industry
Academic performance & extracurricular activities
Career goals & leadership potential
Work ethic & good upbeat attitude
Recommendation from academic adviser, work supervisors &/or professor

APPLICATION PROCESS:

– Complete PAR Internship Application
– Copy of College Transcript (unofficial acceptable)
– Two Letters of Reference (1 reference must come from academic adviser, professor &/or work supervisor)
– Submit by mail or email:

Van Pearcy, PAR President

Pearcy Angus Ranch

2020 W Cuthbert Ave.

Midland, TX. 79701

Office phone: 432-683-0000

Cell phone: 432-770-1482

E-mail:

vmp.pearcyangusranch@yahoo.com

– Face-to-face &/or phone interview of intern candidate
– Applications

must be received

by:

Spring Semester — November 1st
Summer Semester — April 1st
Fall Semester — June 1st
Ranch Sales Barn/Office Location: 17796 FM 1602 Hico, TX. 76457
Efficiency Apartment on Ranch: 444 CR 227A Hico, TX. 76457
*PAR will report intern performance as advised by agriculture department to academic adviser or professor via Midterm Evaluation & Final Evaluation
INTERN EXPERIENCE at Pearcy Angus Ranch
Grayson Lee
PAR Intern from Landrum, South Carolina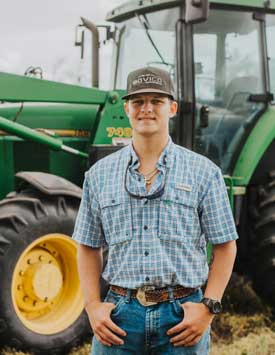 "Pearcy Angus Ranch has taught me so much not only about beef cattle ranching, but also about myself. I have learned important lessons here that I can use for the rest of my life. The PAR internship has been so important because of the connections that I have made with people throughout the industry. My experiences here have built my confidence levels within the cattle industry. I will be forever grateful for the people that I have had the privilege to work with that have taught me so much, and PAR will forever hold a special place in my heart"
Lindsay Lowe
PAR Intern from Pavilion, New York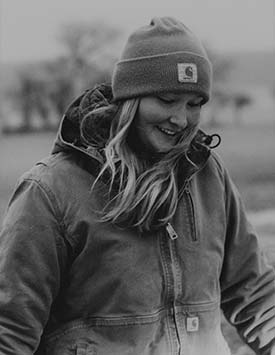 "The best way to learn is by getting your hands dirty and actually doing the work. A ranch internship has been a great opportunity to apply everything I learned in a classroom. This experience has allowed me to grow individually and professionally. I pushed myself out of my comfort zone and have discovered how strong I really am. I have been able to try new things in a safe environment with support and encouragement from experienced people that I trust and respect. These are real life skills that I can take with me and use daily in my future. This internship has been a great transition from student to professional adult. I now feel more confident and prepared for a career in the agriculture industry."
2023 PAR Internship Experience with Lindsay Lowe