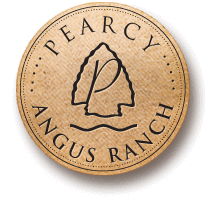 About Us
History of Pearcy Angus Ranch
Hollis and Verne Pearcy started Pearcy Ranch in 1962 on 300 acres upon retiring from Honolulu Oil in Sundown, Texas. Over the years, their third of four sons, Jan W. Pearcy, and his wife Charlotte (from a registered Hereford ranch family in Burkburnett, Texas), purchased 400 acres adjoining Pearcy Ranch. They joined operations in the mid-1970's and began raising various breeds of beef cattle. Upon the passing of Hollis and Verne, their grandson Van (Jan and Charlotte's eldest son) and his wife Donna purchased the land and began acquiring adjacent acreage from other surrounding neighbors over the past 16 years – accumulating to about 5 sections. The ranch has been converted to developed grasses - WW-B. Dahl Bluestem and Klein grass - along with other native central Texas grasses. There are several 40+ acre paddocks used for annual winter and early spring grazing on wheat, oats, barley and triticale mixes. Combining the land and keeping the beef cattle business in the family, has been the long-time goal. Over the past several years, PAR has purchased specific valuable Angus genetics with eye-catching phenotype-perfection from some of the top registered Angus ranches in Texas and the United States. PAR continues to enhance their cattle working facilities and techniques to become a recognized name in the development, breeding, and production of structurally correct registered Black Angus cattle known for their high-quality genetic traits and strong $-Beef.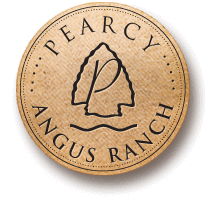 Ranch Staff Bios
Van Pearcy
PAR President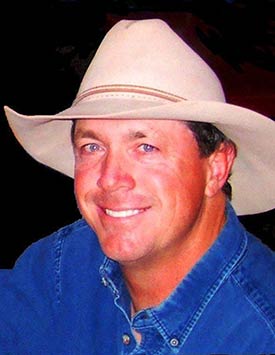 Van applies his love and passion towards the ranching and farming life with his family and Ranch Team members. Van appreciates the ranching profession, dedication and teachings of an honest day's work on the land and with the cattle. In Van's beginning, he was raised in the small West Texas town of Andrews. Growing up, he worked summers at both grandparents' ranches located in Hico and Burkburnett – plowing, baling hay, working cattle, etc. Important lessons of God, family, hard-work ethic and Country were taught to him by his parents and grandparents. Today, Van is active in the PAR ranching operation on a part-time basis - farming, working on ranch projects and leading the ranch team in their overall activities. Van works with Roger West and Garren Wetzel in finding new Angus genetics with phenotype-perfection and top EPD genetics for their 700+ head registered herd. They work together on matching U.S. Angus-leading sires with their best donors during each breeding season. One of PAR's protocols is utilizing AAA's inbreeding coefficient calculation with each mating to provide an element of "cross-breeding" in the Angus breed – only deciding upon low-to-zero inbreeding co-efficient with each mating. Van recently served as vice president of the Texas Angus Association board. However, to devote more time to his family, ranch and financial counseling business, Van resigned from the Texas Angus board at the end of 2021. Van and Donna's 31-year-old son, Vance, who was a dedicated, integral part of their financial services business, ascended into Heaven in November 2021. Van's primary job has been a 35-year dedication of leading his Team to deliver personal, comprehensive financial counseling to the families to help meet their important life objectives. During his school years, Van became a standout track and football athlete, establishing state & national records. Van received two degrees from the University of Notre Dame - undergraduate degree in Economics and M.B.A. degree. Van was an Irish wide receiver in the early 1980's, and co-captain of the Irish track & field team. During his later years at Notre Dame, he married his high school sweetheart, Donna, from Andrews, Texas. After Notre Dame, Van had a brief stint with the Denver Broncos under Coach Dan Reeves. In 2002, Van purchased his grandparents small ranch from his father and uncles. Van & Donna have two grown children, Erin (married to Brian Hagler with one daughter, Emma) & Vance who today is in Heaven.
Jan W. Pearcy
Arrowhead P Ranch President & Rancher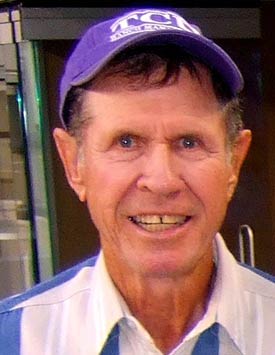 Jan started working and operating the ranch in 1972 with his mother and father, Hollis & Verne Pearcy. Hollis and Verne first purchased land in Hamilton County in 1962. Jan's early years were filled with miracles that movies are made from. At a young age, Jan was hit by a speeding car, and the Dr.'s gave his family no hope that he would ever walk again. Jan not only walked again, but through extreme determination and dedication he became a record setting Texas high school and collegiate 880-yard runner. He attended East Texas State on a full track scholarship and graduated in the late 50's and began teaching and coaching out in West Texas in 1960. Jan retired from coaching in the early '90's from Andrews, Texas, and permanently moved to the ranch. Jan and Charlotte have been fully operating the cattle ranch for over 30+ years.
Roger West
Cattle Sales & PAR Breeding Program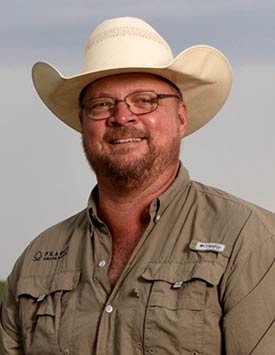 Roger serves on the board of directors of the Texas Angus Association. Roger works contract with PAR managing cattle production, registrations and sales. Roger works with Van and Garren Wetzel on selecting upcoming Angus-leading sires to each female mating, along with running AAA's inbreeding coefficient. In his early years, Roger grew up in Mineral Wells on his family's registered Simmental cattle ranch from 1974 through 1993. Roger was very active in 4H and FFA showing heifers with his sisters at state and national shows. Roger's FFA career culminated with him receiving the prestigious American Farmer Degree in 1988. Upon receiving his first driver's license, Roger attended AI school and took over the family's AI duties. He later began marketing cattle during his families' private production sales. This led Roger to providing marketing services for other cattlemen while still managing the family ranch. Upon a total dispersal of the registered herd, Roger and his father, Dale, started West Breeding Services - providing Donor and Recipient management as well as AI services. Roger left the family operation in 2000 and began managing other cattle ranches in Texas. This ultimately led to Roger joining forces with Parker Friedrich in 2008. Roger went to work for Parker Friedrich Angus Marketing sales business, a successful partnership that still exists today. Roger took over the cattle management of Pearcy Angus Ranch in June of 2014. In Roger's spare time, he consults with a very select group of cattlemen around the country under his company, Roger West Consulting. Roger lives in Stephenville with his wife Sharon and their daughter Allee. Allee attends Berry College on a golf scholarship in Rome, Georgia.
Garren Wetzel
Sr. Ranch Manager & Director of Ranch Operations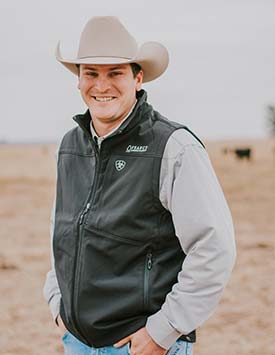 Garren Wetzel oversees and provides daily direction to PAR's personnel and contractors concerning all aspects to cattle and operations. Garren works with Roger and Van on selecting upcoming Angus-leading sires to each female mating – following PAR's breeding protocol that has been developed over the past several years. Growing up as the son of a High School football coach, Garren lived in several Texas towns - but he graduated from James Madison High School in San Antonio. Madison is a magnet school for agriculture and one of the largest FFA programs in the state. During high school, Garren participated in several judging teams, showed pigs, lambs and ag mechanic projects. Upon high school graduation, Garren spent a brief time in Crystal City employed by Del Monte Foods as a field mechanic working on specialty harvesting equipment. Following his Del Monte tenure, Garren attended Tarleton State University earning his bachelor's degree in Ag Services and Development. Throughout his undergraduate work, Garren was a student worker at the Tarleton State farm. Because of his years of experience working in Tarleton's AG operation, Garren was hired as the college farm foreman in 2017. Garren's responsibilities were managing all livestock species, farming and providing real hands-on experience / guidance to Tarleton AG students. During Garren's Tarleton State experience, he had the opportunity to work with black angus genetics and found a true passion for breeding "the business breed." Garren left Tarleton State for Evans Farms near Proctor where he served as the ranch manager.
Ward Kimmel
Ranch Manager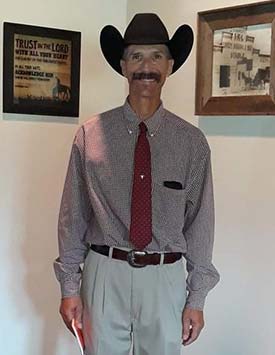 Ward Kimmel works with Garren Wetzel & Tell Ruggles on the daily cattle, breeding and work activities at Pearcy Angus Ranch. Ward was born in Tucson, Arizona and raised in Georgetown, TX. He attended Georgetown ISD where he was involved in FFA, Football, and Rodeo. After High School Ward attended Central Texas College in Killeen, TX, where he studied Farm and Ranch Management. Ward has worked on commercial cattle ranches for 18+ years; 7 of those years as a Ranch Manager. After studying at CTC, Ward went to work for a Ft. Davis, TX ranch. While in Ft. Davis, Ward met his wife, Elise. They were married in 1992. After getting married, he attended Sul Ross State University Law Enforcement Academy. Upon graduation, Ward went to work as a police officer. After 9 years, he left Law Enforcement and went back to working on ranches where his heart has always been.
Tell Ruggles
Ranch Manager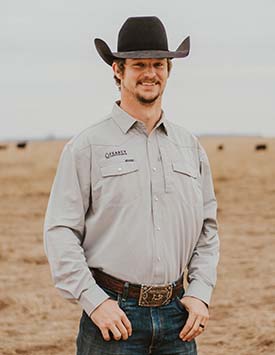 Tell Ruggles works with Garren Wetzel & Ward Kimmel on the daily cattle, breeding and work activities at Pearcy Angus Ranch. Tell grew up in north Missouri farming and ranching their family, neighbors and friends' acreage. Throughout high school, Tell played baseball, basketball, track, and rodeoed. In 2009, Tell moved to Texas to train performance horses and pursue his goal of traveling all over the country to learn from notable equine trainers. Tell feels he has been blessed to learn the ranching way of life from people in Texas, Missouri, New Mexico, Oklahoma, Kansas, Nebraska, Montana, Wyoming, and California. In 2016, Tell had his son, Brady, and met Morghan who he married in November 2019.
Donna Pearcy
PAR Vice President & Human Resources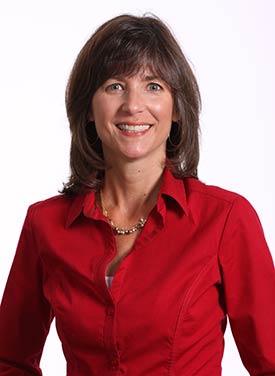 Donna serves as PAR's Vice President. She oversees Human Resources/Payroll for both the ranch and Midland financial services operations. Donna married Van in 1986, and moved to South Bend, Indiana while Van finished his master's degree at Notre Dame. Donna and Van started dating in high school in 1979 where Donna was crowned track queen for the Andrews Mustang Relay. Donna received her teaching degree in bilingual education from Angelo State University in 1983. Donna taught school for several years, but later became a partner with Van Pearcy's Wealth Services Team in 2001. Van & Donna have two grown children – Erin, their daughter who graduated from TCU and is married to Brian Hagler. Erin and Brian have one daughter, Emma. Erin works for an oil & gas company in Austin. Their son, Vance, graduated from TCU. Vance worked day-to-day with Van, Donna & office Team at Raymond James in Midland, Texas until November 2021 when Vance ascended into Heaven.
Charlotte Pearcy
Arrowhead P Ranch Bills/Receipts
Charlotte came from a Registered Hereford ranching and wheat farming family In Burkburnett, Texas. She met Jan Pearcy while attending East Texas State University. Charlotte graduated from East Texas State with a teaching degree in the late '50's. They married, and moved to West Texas to start their family. Charlotte retired from Andrews, Texas Independent School District in the early '90's as a long time 1st grade teacher. She took over the books and billing of the ranch over 20 years ago. Jan and Charlotte have two sons, Van and Kirk. Kirk works in the oil and gas industry in College Station, Texas.